Click on the button
to share Sri Sri's divine knowledge topics.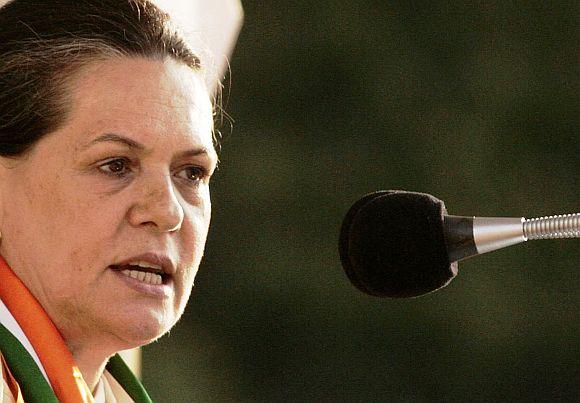 Asserting that she will fight for the passage of the Lokpal bill in Parliament, a combative Congress president Sonia Gandhi on Wednesday hit out at the Opposition for "obstructionist" tactics and Team Anna for "deliberate and malicious" criticism of the government.
"We are being criticised and attacked for not tackling the scourge of corruption. This is deliberate and malicious misinformation," Gandhi told the Congress Parliamentary Partymeeting without referring to Team Anna or Anna Hazare, who has threatened to go on a fast from December 27 over the Lokpal issue.
"I will fight for Lokpal and women's reservation issue", she told mediapersons close on the heels of telling the Parliamentary Party, "I cannot see any reason for us to be defeatist".
She said that to tackle the issue of corruption, three bills with major implications are to be passed soon -- those relating to the protection of whistle blowers, enhancing judicial accountability, strengthening anti-money laundering operations and controlling bribery of Indian public officials by foreign companies.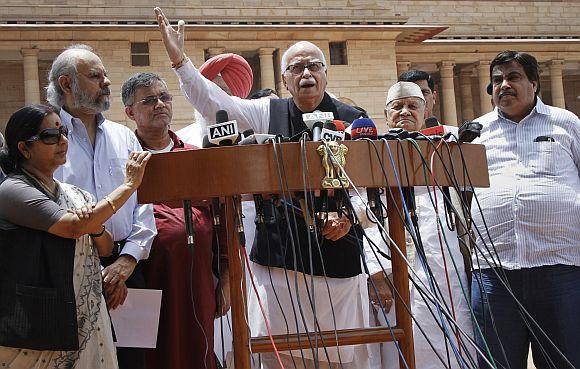 "Just yesterday, the government has approved the Lokpal Bill which is also to be introduced and passed," Gandhi said.
Attacking the Opposition, especially the Bharatiya Janata Party-led Nationalist Democratic Alliance, Gandhi said, "Let us fight the forces out to destabilise us, forces who have never accepted the verdict of 2004 and never reconciled themselves to the renewed mandate we got in 2009."
She said, "The Opposition may be loud but it is opportunistic. Logic and merit are lost in their obstructionist tactics."
Noting that the Congress-led coalition has never refused a debate on the issues the Opposition demanded, she wondered, "if the sole objective of the BJP-led NDA is to derail our legislative agenda".
"However, we will not be deterred. Our commitment is to the people of India. We will persevere in moving ahead on our governance and legislative programmes," she said.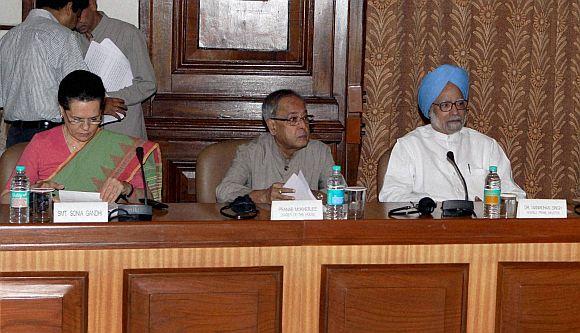 On the Food Security Bill, which will be introduced in the current session, she said, "We must make it work because it will protect a huge number of our people from hunger and malnutrition."
The bill is "very much part of our far-reaching rights based approach to development", she said, adding that she was aware that there are "still some concerns" but this is truly a landmark decision.
Gandhi thanked Prime Minister Manmohan Singh, Finance Minister Pranab Mukherjee and "our colleagues in the government" for helping fulfill a key commitment made in the 2009 manifesto.
She wanted partymen to take the Food Security Bill to the people and "make it a central part of our political campaigns".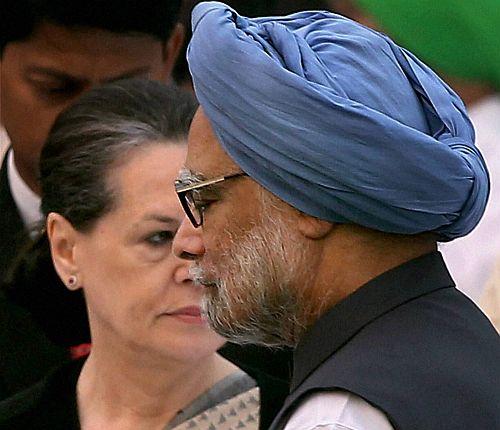 Gandhi spoke on several issues including on price rise, declaring that controlling inflation will remain "our over-riding priority".
Seeking to dismiss Opposition projections against the backdrop of FDI in retail fiasco that those heading the government and the ruling party were not on the same page on key issues, Gandhi said, "Let me once and for all nail this".
"Every now and then, our political opponents have been trying to create an impression that there are differences between the Congress and the government. Let me once and for all nail this. There may well be differing points of view. But whatever is eventually done is done together," she said.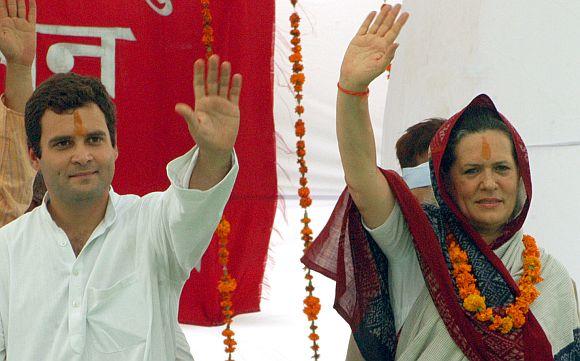 Virtually launching the poll campaign of the five states including Uttar Pradesh which will have assembly polls soon, Gandhi said that there is a "definite sentiment in our favour" and if the party continued to campaign with a sense of purpose and above all unity, it could come to power in Uttarakhand and Punjab.
In Uttar Pradesh, she said though the party was facing "considerable odds", there is a "growing support" for it.
"The challenge is to convert that support into votes on the polling day. All of us representing UP must work hard in our respective constituencies to support the efforts being made by our colleagues there," Gandhi said.
In Manipur and Goa, where the party is in power, its achievements in the past five years "give us the confidence of securing a renewed mandate", she said.