Click on the button
to share Sri Sri's divine knowledge topics.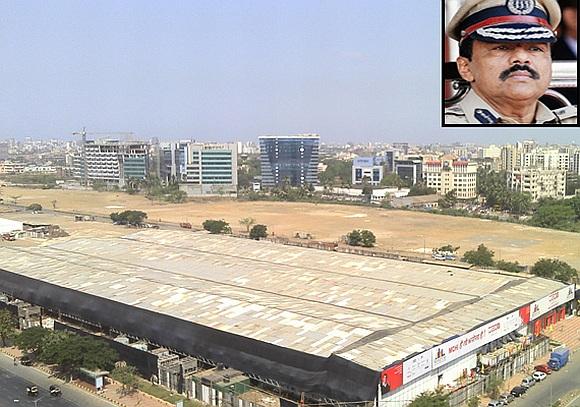 Anna Hazare and his team is all set to commence its three day fast at Mumbai's MMRDA grounds at Bandra Kurla complex. Anna Hazare has personally appealed to people for donations to be able to pay the rent rates for the ground. With the fast venue almost finalised, the task of maintaining law and order clearly cut out for the Mumbai police. Rediff.com's Toral Varia Deshpande spoke to Mumbai Police CommissionerArup Patnaik.
Its almost finalised that the venue for Anna's three-day fast is going to MMRDA. What's Mumbai police's plan of action to ensure three trouble-free days?
I am not envisaging violence. In that sense, the role of Mumbai police is going to be largely regulatory and crowd control. See this whole issue has a lot of ambivalence. These are all politically sensitive issues which also borders on law and order. If we take overt actions we are not going to get anything out of it, neither politically nor otherwise. Only our officers are going to get into some kind of trouble. So we have to tackle it in a manner that the public is not inconvenienced.
There are proper standard operating procedures which we will go by. We cannot share every detail of our strategy. But suffice to say we are going to be fully prepared to handle any situation and regulate large crowds.
Please shed some light on what has largely transpired in your meetings with Team Anna.
Hazare, without going into the details and for whatever reasons, wanted to shift the agitation to Azad Maidan. We had verbally told them that we cannot give the permission for a long time because people of south Mumbai and those coming to south Mumbai for work will be inconvenienced, there would be serious traffic issues etc.
We put forth these points before they came to us meet us, and we tried to dissuade them from coming to Azad Maidan. Now on their own they went to MMRDA, where the rules are pretty stiff. When they approached, MMRDA gave them a lowdown on the charges and they could have given it too, but I believe Anna intervened and said that they should not be paying any money since this is a public agitation.
Eventually now after the Mumbai high court order they will have to chose MMRDA grounds because we got a sense that they are expecting a participation of approximately one lakh protestors. Azad Maidan was clearly not the ground where they could have accommodated so many.
'We are not here to judge people'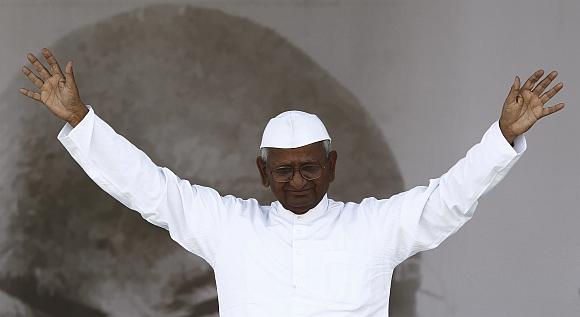 What happens when they come to you with permissions from MMRDA?
The biggest hurdle for them was to secure the ground space. If they come to us with requisite documents and permission and are able to comply to the some pre-conditions such as traffic, parking etc, we don't have a problem giving them the permissions.
But if they don't, then we have the option and the right to refuse them. After all, it's their call. We are not in any position to take sides. For us, their request is like any other. For us they are neutral. As police officers we are not here to judge people right or wrong.
Last August, when Hazare was agitating at the Ramlila Maidan there were reports of eve teasing and pick pocketing. How do you plan to tackle that, given that the crowd is going to be large?
There are two points -- one is to pre-empt and one is to deal with an incident after it has happened. It is like art of war. The important thing is to win the war without actually fighting it without being weak or passive. This is a very busy time for Mumbai.
Firstly its festive season; secondly, the fast is expected to take place during working days. Now if an agitation of a huge magnitude is to take place it is practically impossible to check the credentials of every single person coming for the protest.
However, the police will be stationed at every vantage point both in uniform and plainclothes. Entry and exit will be monitored to the maximum extent as far as possible. ID cards would be checked randomly. Plainclothes policemen will be mingling the crowds and try to prevent any possible incident of eve teasing etc.
'Self regulation on their part will be appreciated'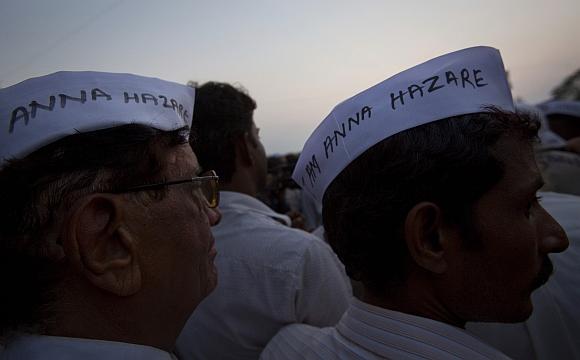 You think Team Anna should also shoulder some of the policing responsibility?
We will do our job to the last letter of the book. However they should also internally ensure that they do not contribute to a law and order type of a situation. Self regulation on their part will be appreciated.
Jail Bharo is getting a lot of response on the web. When the day finally comes, how do you plan to handle the situation?
I come in to the picture whenever a law is breached. For instance, if you are preventing a minister or a member of legislative assembly from coming out, or restricting his movement etc. If someone is going to create law and order problem then there is no respite. I am going to take all possible action by the book.
Will seek extra forces from the Centre?
We are still reviewing the set up. We will do all that is needed to ensure that there is not volatile law and order situation.